Sekolah Bisnis IPB-University (SB-IPB) membuka peluang BEASISWA kepada Sarjana IPB untuk kuliah pada Program Magister Manajemen dan Bisnis Gelombang 1 Tahun 2020.
Persyaratan :
Lulusan dari IPB minimal IPK 3,50 dengan batas umur maksimal 25 tahun.
Mengirimkan berkas pendaftaran (Formulir, Pas Foto 4×6, dan 1 buah Surat Rekomendasi dari Dosen Pembimbing, Bukti Transfer Biaya Pendaftaran sebesar Rp. 750.000).
Belum mengikuti/diterima di Program Studi lain dan tidak sedang menerima beasiswa dari institusi/badan/lembaga lainnya.
Batas Pendaftaran Tanggal 23 Mei 2020.
Pemberkasan dikirimkan via email : marketing@apps.sb.ipb.ac.id dan konfirmasi ke Bagian Admisi SB IPB melalui Nomor WhatsApp : 08-1111-08-358 (Chat Only).
Hanya kandidat terbaik dan memenuhi kualifikasi yang akan kami proses.
Informasi lengkap mengenai Program Magister Manajemen dan Bisnis SB-IPB.

Unduh Informasi:
On 3 April 2019, as part of a study tour, 35 graduate students from the School of Business- Bogor Agricultural University (SB-IPB) accompanied by Dr. Idqan Fahmi, Vice Dean for Academic Affairs paid a visit to the ASEAN-Korea Centre.
Bogor Agricultural University (IPB) or the Insititut Pertanian Bogor (IPB) was founded in 1963 and is one of the top universities in Indonesia. Moreover, it is the only state-run university with a focus on tropical agriculture and life sciences, some of which consist of strengthening food security, promoting bioenergy, protecting the regional environment and alleviating poverty. Notable alumni include the former President of Republic of Indonesia, Dr. Susilo Bambang Yudhoyono, MA, and some former Ministers from the Ministry of Agriculture, and Maritime Affairs and Fisheries.
The welcoming remarks were delivered by H.E. Lee Hyuk, Secretary General of the Centre, followed by a briefing by Mme. Siti Tri Joelyartini on the Centre's activities and ASEAN-Korea partnership, with a focus on the relations between Indonesia and Korea.
A Q&A roundtable session was then conducted by ASEAN officials to answer any questions the students might have. The ASEAN Officials comprised of Mr. Nongchith Khambounheuang, Head of Trade and Investment Unit, Mr. Phan The Thang, Deputy Head of Information and Data Unit and Mme. Siti Tri Joelyartini, Deputy Head of Development Planning and General Affairs Unit.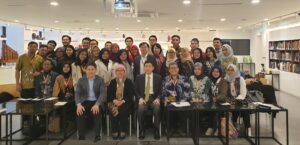 Source: https://www.aseankorea.org/eng/Activities/activities_view.asp?BOA_NUM=13771&BOA_GUBUN=99